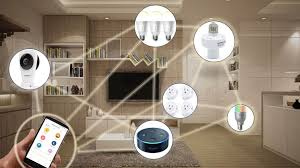 Have you ever thought about making your home into a smart home? Well, now you can without renovating or spending a lot of money. We have included some information and steps for creating a smart home.
Check your Wi-Fi: a home Wi-Fi network is a requirement and you will need a strong enough connection to work throughout your house, preventing dead zones. To have a smart garage door opener, smart doorbell or a smart door lock, you will need to have Wi-Fi at the very edges of your home. The way to create a robust home network is to install a mesh Wi-Fi system that uses a number of devices to create a single network over a large area.
Start with minimal devices: there is no need to add every smart device in your home all at once. Setting up 1 or 2 devices that are most useful for your lifestyle is a good start. Then if you enjoy having that, you can add other things later on.
Choose Smart Bulbs: applications "apps" on your phone or virtual assistants can give you the luxury of turning lights on/off. Having smart bulbs in your home can provide convenience and safety while you're home or away.
Select products for efficiency: making your home a smart home can be an energy saver. A smart thermostat allows you to turn your heater and air conditioner on and off when you are not home.
Decide how to control your smart home: manufacturers and technology companies are making it easier for these smart devices to communicate with each other, so having one or two apps to run all of your devices would be best.
Use a virtual assistant: if you don't want to use the app on your phone, you can get an Alexa, Siri or Google Assistant. Choosing between apps on your phone or a virtual assistant comes down to your preferences of convenience and privacy.