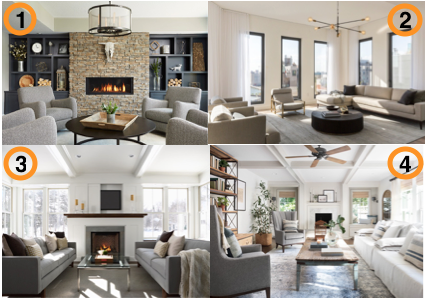 Interested in remodeling a home, but not sure what kind of style? First Street Real Estate has picked a few design-types to share with our readers.
1. Transitional: one of the most popular styles because it takes from both the traditional and modern design. May use materials like dark woods and stone. Very neutral colors and earthy reds are used as accent colors.
2. Contemporary: this style is done with minimal pieces in the room. The color of the room and furniture is usually black, white or grey and has primary colors as accents. Metal and glass are used. This is a good style to choose when you are working with a smaller space.
3. Modern: features clean, straight lines and is a well-put together style. Uses a very simple color palette and materials like metal, glass and steel. It is very humble and there is usually no clutter or too many accessories involved.
4. Farmhouse: cozy and inviting! The sofas and chairs exemplify comfort and sometimes have slipcovers for little maintenance. Wood materials are most popular with this style. Colors of paint and textiles are neutral and pastel.
First Street Real Estate Associates can provide professional consultants to help you with your space and enrich your lives.